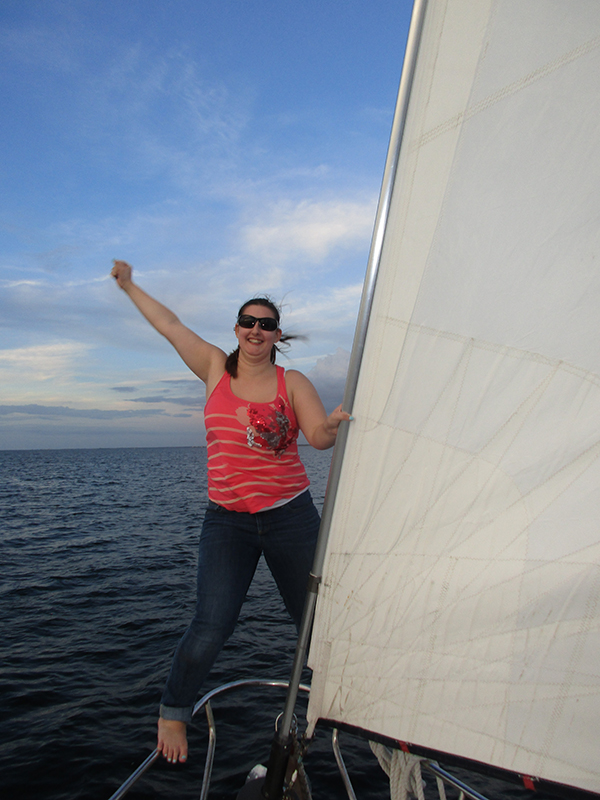 Sailing Charter Types
---
Sailing on Wind Star out of Dunedin we can provide a number of unique and fun charter experiences. These trips are limited to six passengers.

Our charters are private. This is not a per person experience. This means that you are not sailing with strangers.

Contact us and we book the boat for you, and do our best to accommodate your requests. Below is a list of examples; however, If you do not see what you are looking for please contact us and we will do our best to accommodate your request.
SOME OF our sailing charters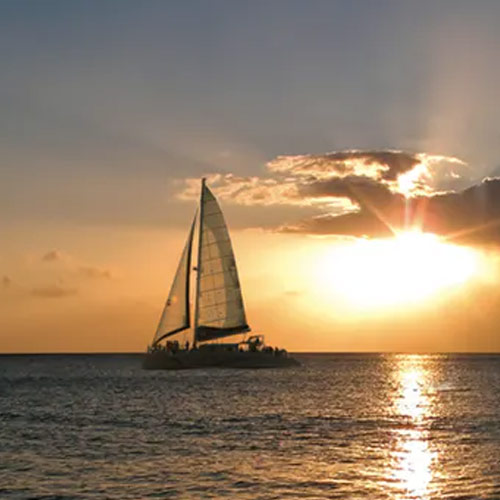 Sunset Sail
Enjoy a fun filled evening of sailing into the beauty of one of Dunedin's sunsets. Why sit on the shore watching the boats sail by when you could be out there on your own sunset charter.Treat yourself to a private three-hour sunset sailing charter for up to six people. This is a great opportunity to celebrate special occasions like anniversaries, proposals, or birthdays.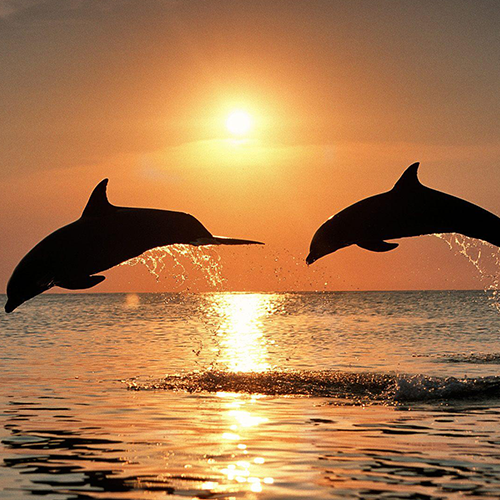 Dolphin cruises
Join us for an opportunity to observe some of the most intelligent, playful and athletic of all sea creatures. Our dolphin cruise provides the opportunity to see dolphins in the wild. There are a number of dolphin pods in the area. We know where to look for them and strive to make every dolphin tour a fun and successful adventure. In that dolphins are wild creatures and therefore unpredictable, we cannot guarantee that we will always encounter a dolphin pod. We can honestly say that seldom do we sail on Wind Star, whether a dolphin cruise or not, that we do not successfully see dolphins. During a dolphin cruise we will make it our primary goal to locate dolphins.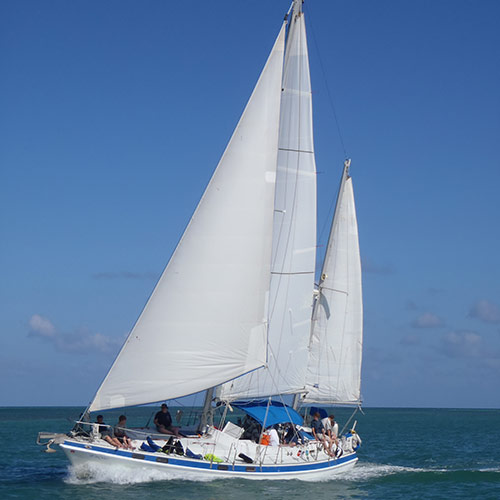 Half Day Sail
This is a 4 hour experience which gives you the opportunity to explore and experience St Joseph Sound. During this adventure you & your party can enjoy simply sailing in St Joseph Sound and the surrounding waterways, or take a short excursion to explore one of the local spoil islands.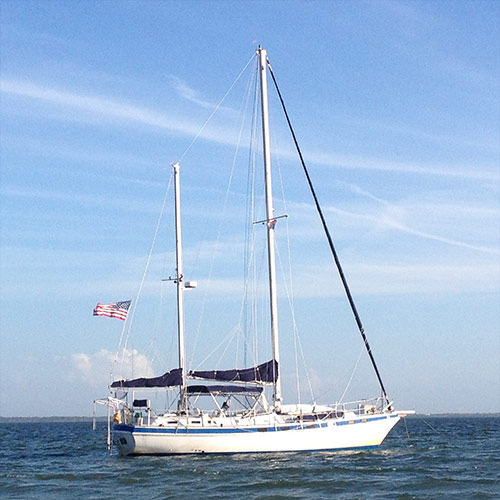 Full Day Cruise
A full day of sailing the beautiful waters of St Joseph Sound is a day to experience.. You can simply sit back and enjoy the day. You are also welcome to be involved in setting the sails and taking your turn at the helm. Basically, it is your day to relish doing as much or as little as you like. During this adventure you will have the opportunity to sail to and explore one of the areas pristine barrier islands and bars. These islands include Anclote Key, Caladesi Island, Honeymoon Island, or Three Rooker Bar. You may choose to spend the day sailing Wind Star out one of the passes and into the Gulf of Mexico and back. It is your day to enjoy so book now and start your adventure.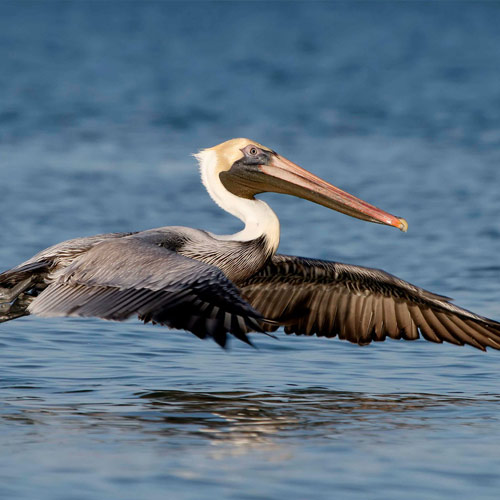 Eco Cruise(Full Day)
Wind Star is set up to explore the wildlife and ecosystems of the major marine habitats of the Florida Gulf Coast. View the coastal wildlife that inhabit them including spoonbills, ospreys, bald eagles, dolphins, and rays. Two kayaks available upon request to explore the grass flats and mangroves. Captain Harry is a certified Florida Naturalist in Coastal Systems.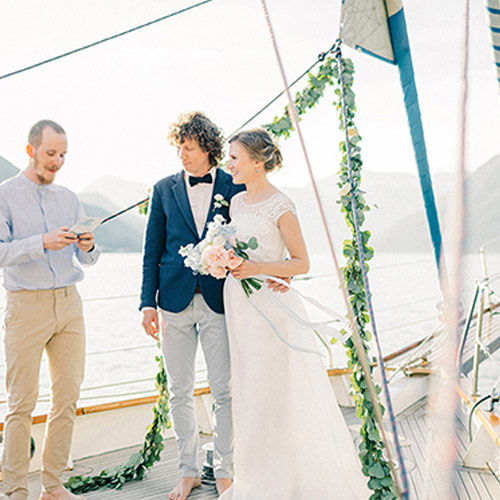 Specialty Cruises
There are many life events that can be shared on a cruise. These specialty cruises are listed below:
-Wedding performed aboard
-Wedding reception pickup & drop off
-Burial at sea
-Christmas Boat Parade
-Celebrations of all kinds including: Anniversaries, Bachelor / Bachelorette party, Birthdays, Girls / Guys night out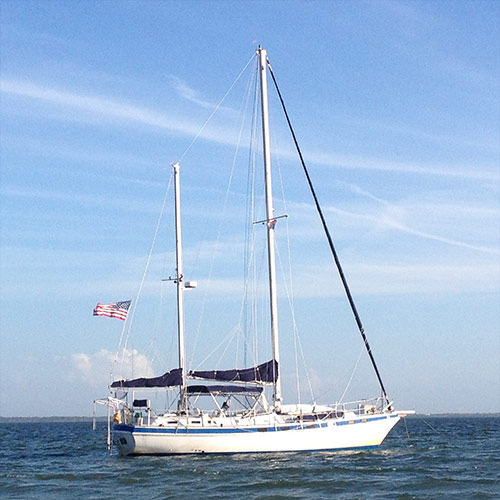 OVERNIGHT CHARTER
Have you ever wondered what it's like to fall asleep on a yacht? Imagine watching a sunset while enjoying a meal and a Sundowner. Continue your experience by listening to the water rippling by, or laying on a deck at night watching the stars passing by like a giant kaleidoscope. Think about waking up to a beautiful sunrise while enjoying a hot fresh cup of coffee. If you have answered yes to any of these questions then this is your chance. An overnight charter starts at 10:00 am. You will enjoy a day of sailing and enjoying the waters in the area near Dunedin. Just before sunset we will drop anchor in a quiet location near one of the many beautiful islands in our vicinity. There you can enjoy a meal on board Wind Star, and a peaceful evening. As the sun comes up the next morning you will enjoy a light breakfast prepared onboard. We will then raise the anchor and make our way back to Dunedin Marina.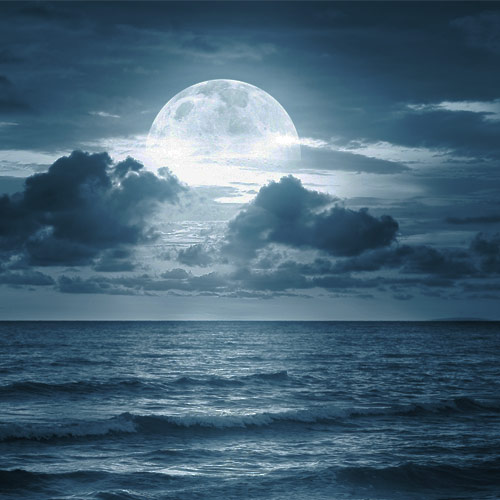 Moonlight Cruise
Enjoy the beauty of St. Joseph Sound by moonlight. When the moon is full, we set sail just before sunset. It is an experience sailing in the afterglow of a setting sun and then merging into moonlit waters. Definitely an experience you'll always remember - keep an eye on themoon calendar. We only book this experience 4 nights a month.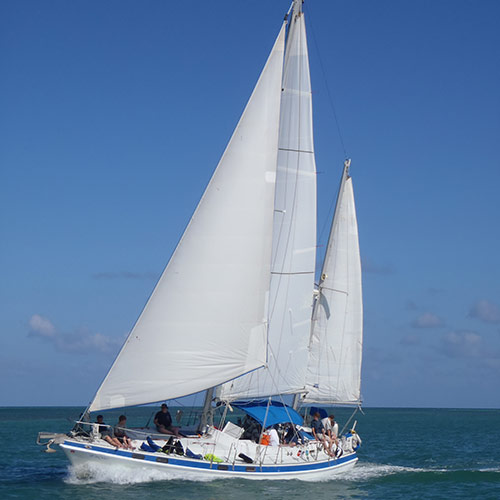 Multi-Day Cruise
Wind Star is in a comfortable multiday range of such destinations as Gulfport, Egmont Key, Sarasota, Pass A Grille, and St Pete Beach. Contact us and we book the trip for you, and do our best to accommodate your specific requests.


Sunset, Half Day and Moonlight sails provide the opportunity to sail south toward Clearwater Pass or north towards Tarpon Springs. The direction we travel is dependent on the wind and passenger preference. The southern route takes in a more populated direction, and provides an opportunity to sail out Clearwater Pass and back. The northern sail provides us the option to sail under the Dunedin Causeway and into the openness of St Joseph Sound . This trip travels toward a less populated area. Less population means a better opportunity to observe local wildlife in their natural surroundings.