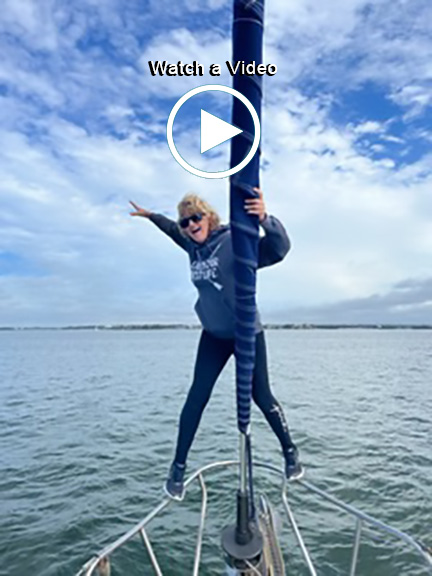 Omg! What an amazing time!!!! I had sailing ! Best conversations and on the most beautiful sailboat! Will definitely be seeing him again when I visit Florida next time!!! Thank you again!!!!

Beck



Captain Harry was our Boy Scouts Sea Base captain. We spent a week sailing the Keys, snorkeling and kayaking. He was great with the boys and awesome company for the only adult on the trip. I highly recommend Captain Harry and the Wind Star.

Kevin
We sailed aboard the Wind Star with Captain Harry on 12/26/21. The Captain was most accommodating to my family, including my grandchildren, ages 4 & 5. We had a wonderful time sailing the intercostal waters near Clearwater. The Wind Star was well kept and safe, kids life jackets were included. All six of us had a great time - highly recommended!

Dana
We sailed with Captain Harry 4-15-22, it was a beautiful evening and we all really enjoyed our time on the water. Looking forward to an overnight trip soon :)

Nicole
We were looking for a day on the water to work on our sailing skills and Harry didn't hesitate to accommodate us. He clearly has a wealth of knowledge and loves what he does. Whatever experience you are looking, he will make sure you get it. Highly recommended!

Sesha
Sailed with Captain Harry on 2/13/2022 it was awesome!!! Very knowledgeable, funny, and welcoming. Had a great time, even saw some dolphins. Highly recommend.

Linda
My friend came down from the cold and we booked a trip with Capt Harry to go to Clearwater and have lunch at Frenchy's. What a trip it was...relaxing...beautiful...memorable. You know Capt Harry was a hoot too which made it very pleasurable. Thanks Capt Harry.

Joan
Harry,

Thanks for taking us crazy midwesterners out in the cold weather! We all had a blast. The dolphins were incredible this time. Really enjoyed sitting at the helm and running through a few tacks on a big boat. Looking forward to joining you again in the future.
Mark
Our Charter Reviews

Best Day Ever experiencing the Wind Star Eco-Tour! Captain Harry is so enjoyable and created a unique, catered experience for our family. We enjoyed sailing with dolphins, snorkeling the mangroves, and kayaking to a remote beach that wasn't overtaken by tourists....even found a sand dollar! Captain Harry enhanced the experience by providing education before exploring so we knew what we were looking at! Captain Harry's history and knowledge of the area and local ecosystems are priceless and his ability to connect with our teen sons created a day we could all walk away from extremely pleased.
Beth
What a fantastic time we had with Captain Harry on the Wind Star!
Very welcoming to our family and he fit right in like we have known each other for years, or is that the other way around.
We helped with the sails and gained sailing knowledge along the way.
Captain Harry is great at teaching and answering questions about the boat and surroundings areas.
Our first time on a sail boat and I'm so glad my wife picked the Wind Star.
I can't say enough except we hope to sail with you again Captain!
Wonderful time and a long lived memories.
Just an awesome experience!
Sincerely,
The Sims family.
We have repeated this wonderful experience with Captain Harry. He is very professional, respectful, friendly and punctual. The boat is in perfect condition and comfortable. we will be back.

Madelin
Dunedin Sailing at it's best. We could have spent our entire vacation aboard the Windstar and in the company of Captain Harry. It's sailing as peaceful and beautiful as true sailing was meant to be.

From personally taking our call to arranging an entire afternoon/ sunset sailing the very next day for just my wife and I. The Captain made sure that this was no detail to small. This sailing trip will be one of our greatest memories of Dunedin, Florida.

Have you ever had a draw bridge open specifically for you? We have.
Thank you for the great memories. See you again soon!

#sailing #dunedin #honeymoonisland #sunset

Curtis

Had a blast sailing on this ship. Super friendly and funny captain. We got to see dolphins and go on islands. It was a great time!

Eka
Wonderful time sailing the Wind Star with Captain Harry. He is tour you around while you relax, or let you go hands-on and sail the boat! He's a great teacher, highly experienced, and makes the whole experience fun for the family.

Michael
Can't thank you enough for a wonderful outing with our family, I honestly don't remember the last time I was that relaxed and had that much fun.
Was the highlight of our trip!!
Thank you, a million times!
Chloe
Captain Harry,

Thank you, we really enjoyed it too. We'll be sure leave you a review and look forward to sailing with you again. 
Michael